Hey, are you planning to start a blog with hostinger WordPress hosting?
But appears you are confused about the hosting plans that's why you landed on this page by searching "Hostinger India review".
Before breaking down the features I want to assure that you are not going to read Hostinger review by a random person. Blogging Rich itself also hosted on Hostinger WordPress hosting.
Therefore, here i am not only sharing the review though i am also sharing my personal experience and 6 months performance report of my site.
I have done speed tests, server uptime test and measured its traffic handling capacity.
So in this Hostinger review, you will get to know why you should choose hostinger WordPress hosting? Why everyone says hosting is the best budget hosting in India. Why newbies should start with this hosting.
Hostinger India Review At A Glance
Hostinger is an employee-owned web hosting provider and the domain registrar. It was founded in 2004 in Kaunas Lithuania.
Yes! Hostinger is one of the older Hosting company on the web. Now Hostinger has over 29 million users in more than 178 countries.
So you don't need to worry about the company's profile. Hostinger is a well established hosting company. So you can trust on this hosting.
Quick Overview On Hostinger Web Hosting
Services:- Web Hosting (Shared, Cloud, VPS) & Domain registrar.
Avg. Speed:- 240ms(TTFB)
Avg Full load time:- 2.5 seconds (worldwide)
UpTime:- 99.99%
Features:- 100 GB Bandwidth, 10 GB SSD Storage, Free SSL, 1 Email Account.
Starter Plan:- 59₹/month (Shared host)
Data Centers:- Asia, Europe & USA.
Support:- 24/7 Quick & Excellent.
Site Transfer:- One free migration
Best Deal:- free .com domain with Premium Plan.
30 Day money back Guarantee.
Best of Hostinger
Pros of Hostinger
Every product has some pros and cons and i do agree that Hostinger has both pros and cons of its services.
So, first of all, we will take a look at good things of hostinger and during this i will also show you some proofs how it had performed with Mr. Shubhu in past few months.
Fastest Speed –
This is what everyone talks about when they going to purchase a hosting plan. 90% of people will never look again if the hosting company provides poor loading speed.
Even i had also used previously cheap hostings and bore a lot of losses like high load time, downtime in servers and high TTFB.
TTFB is known as "Time to take first bite". This is going to one of the ranking factors in 2021 and TTFB should be then less than 2.0 seconds.
So, in August 2020 i migrated this site from siteground to Hostinger and you won't believe results are shocking!
I was using one to most promoted hosting "siteground" and was getting 3.0-4.0seconds of loading speed on an average.
No doubt, siteground has more features compared to hostinger but it is also more expensive than hostinger.
But Hostinger results are just amazing!. Now my site loads in less than 2.0 seconds and TTFB is also excellent which is 200ms (0.200s) only.
Here is some excellent stats of my site with hostinger web hosting.
Above data is shown behalf of Gtmetrix report in Indian location. You can also check the speed differences between siteground and Hostinger below.
Here is the Gtmetrix repot When i was using siteground hosting.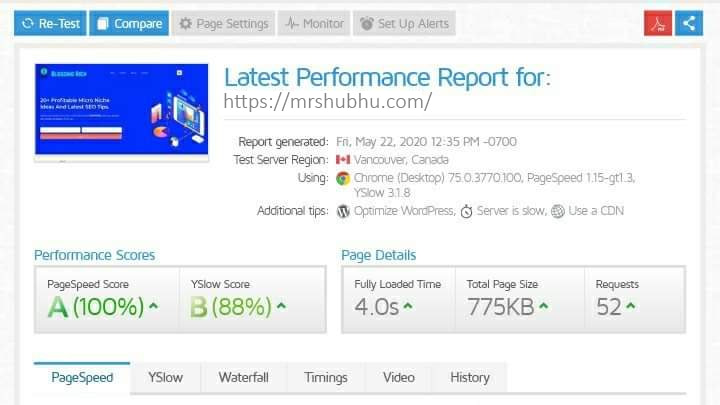 Here You can see the site has good speed though not the best as compared to hostinger.
Here is the Gtmetrix report of my site when migrated to Hostinger.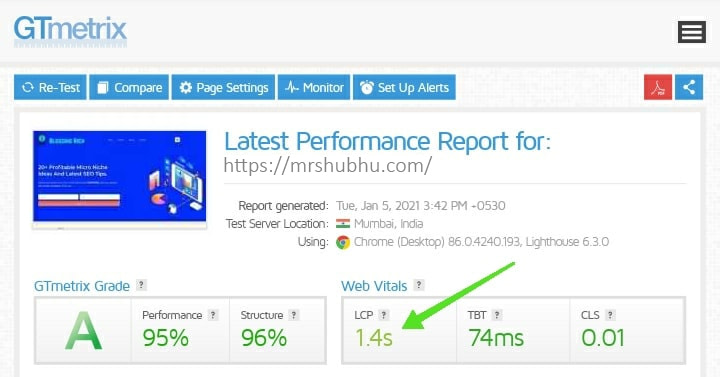 Isn't it a good speed?
Here you can see the loading speed is impressive in Hostinger. Hence, we can say hostinger isn't only a budget-friendly hosting, it also provides powerful servers too.
Excellent Pricing
Pricing can be a deciding factor for any product where it is hosting or any other product. Most of the people buy due to its reasonable pricing.
Here Hostinger won't disappoint you it's plans are beginner-friendly and anyone can easily afford.
Hostinger Hosting comes with 3 types of hostings Shared, Cloud and VPS. If you are starting a blog then you should choose shared Host.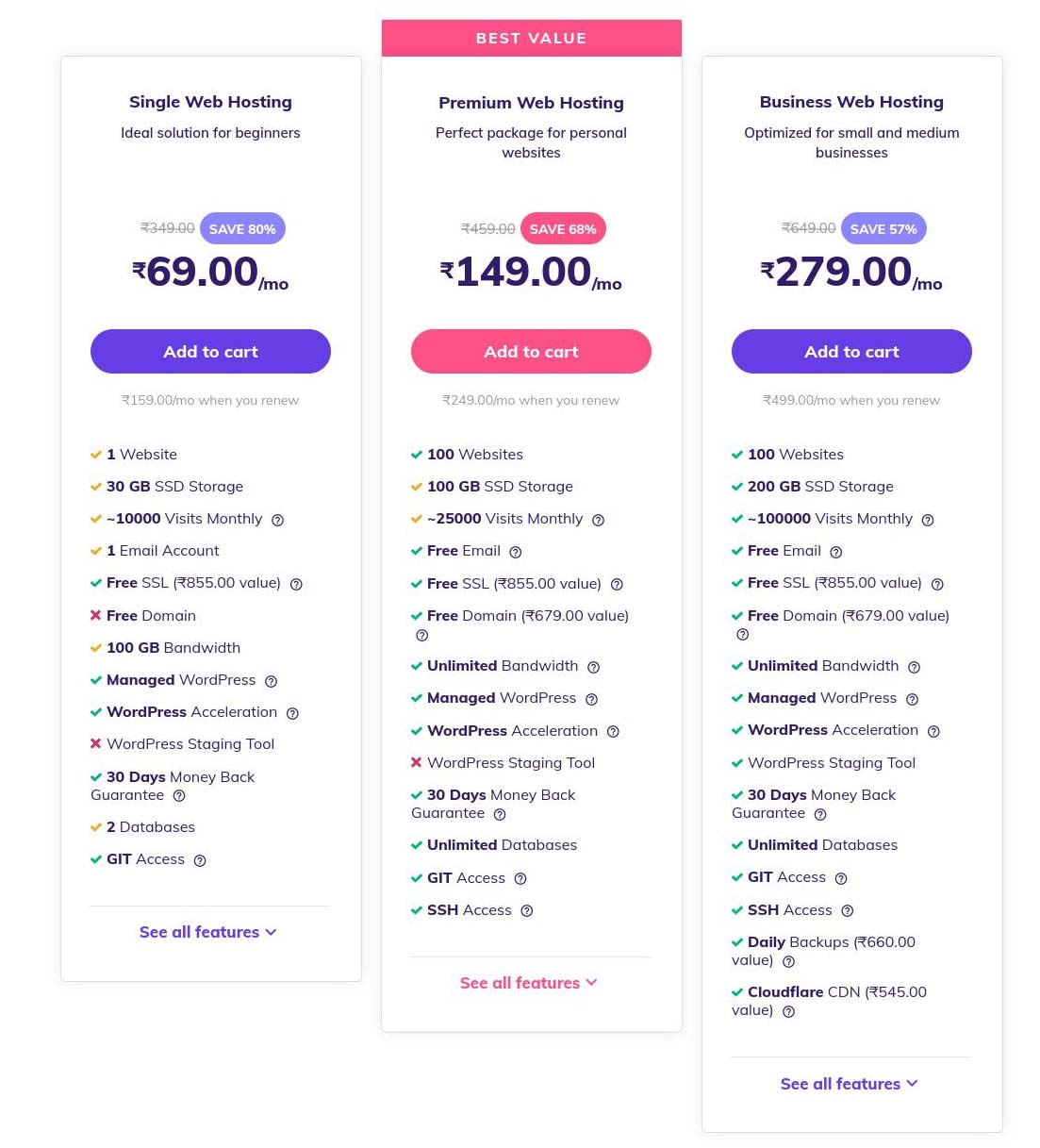 The shared hosting plan is Quite affordable and interesting of Hostinger. You can get your hosting with 59₹/month only.
Here you see you can start with 59₹/monthly. Sounds good?
Yup, but not that way. Most of the people think that they will have to pay only 59INR every month which is not true.
So, let me clear your confusion. Here if you purchase a hosting plan for one month only then you have to pay more than 59₹. You can check the actual monthly pricing here.
But it doesn't mean Hostinger shows fake pricing.
You can get 59₹/month only if you buy hosting for 4 years. By the way, this is not with hostinger only you can check Bluehost, GreenGeeks pricing structure too.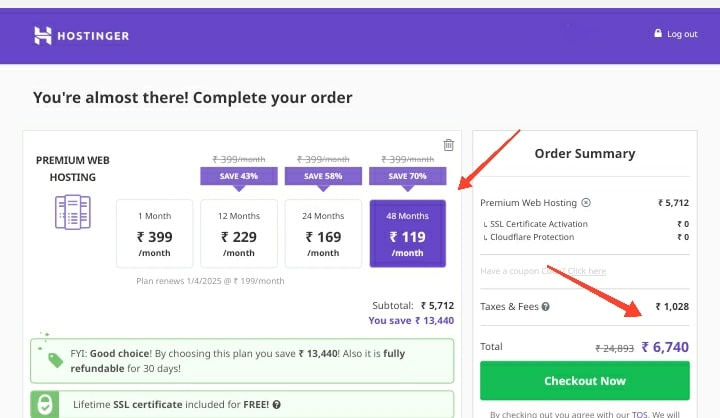 Overall, we can say buying hosting for 4 years is a smart decision for you. In future, if you don't want to use then you have an option of "money-back guarantee".
However, you can also choose cloud and VPS hosting plans as per your requirements. If your blog has huge number of visitors then you must select Cloud or VPS plans.
Flexibility in payment-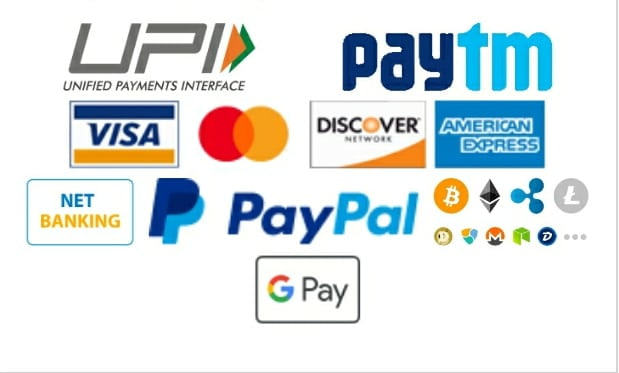 If you are from India, Bangladesh and other countries where USD isn't the main currency.
You always have to face the issue of international payments in USD as everyone doesn't have credit cards. But most of the Hosting companies accept USD only.
So, here Hostinger provides the flexibility to pay with any payment method like UPI, net banking and PayPal etc.
This is another big reason i have chosen Hostinger because i don't need to ask anyone for a credit card. I can easily pay with my UPI.
Top-notch customers support
This is the main thing a person must be careful before buying a hosting plan. Good support team is a must for everyone to handle any kind of issues related to hostings.
The key of the Top-seller hostings is they provide good support system over good features. So that their user will never have to face any complications.
The support team of Hostinger is just amazing. Whenever i face any issue within in an hour they solve it.
However, they provide support only via "Live chat" and "Email" but their email support is enough. You will feel like you are talking to your friend.
This is a screenshot of a conversation with them and you can see how friendly they behave. Apart from that, they will never leave you until and unless you stop questioning.
They provide 24/7 customer support and their maximum response time is 20 minutes from your email. But almost all of the time they reply under 10 to 15 minutes.
Easy to use interface-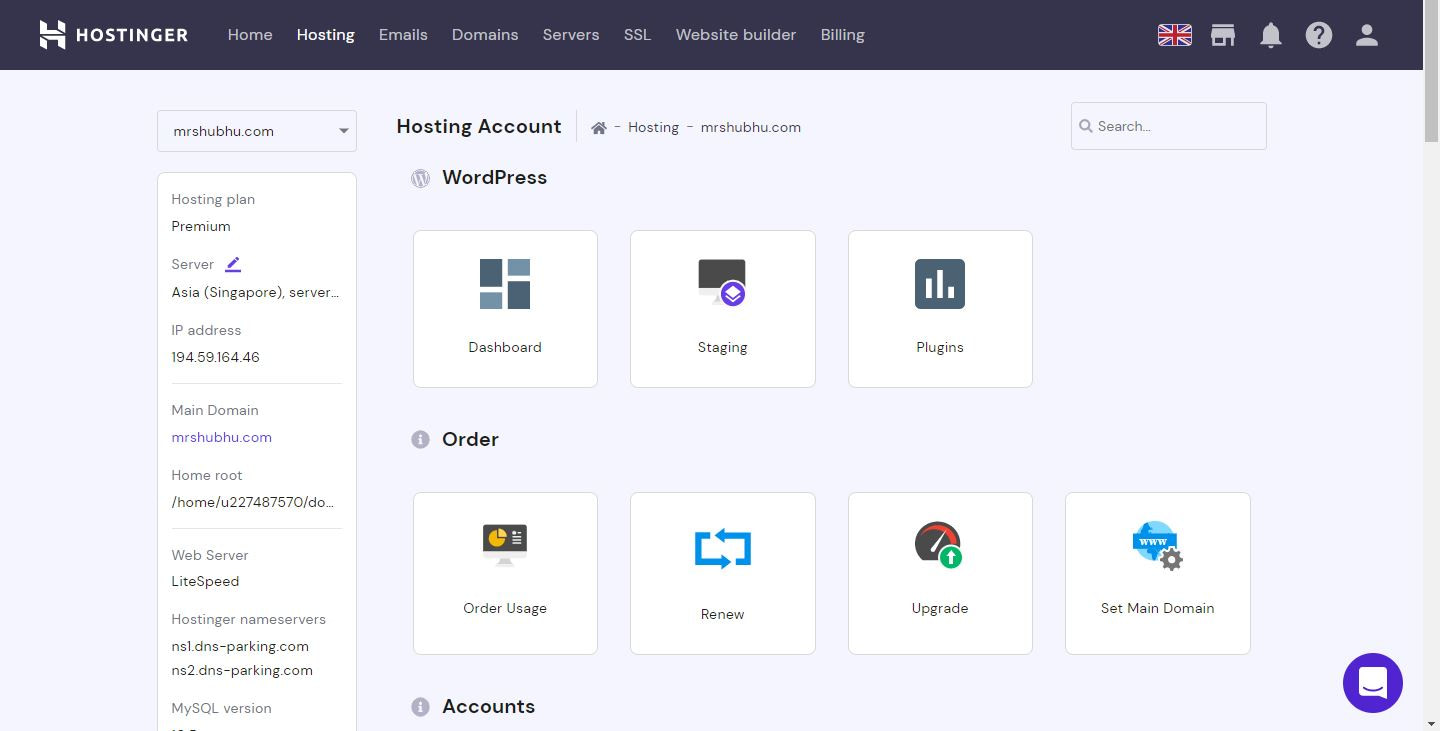 Hostinger uses its own h-panel, unlike other hosting company they don't use C-panel.
People who are going to start their blog will love this h-panel because it is based on modern design and simple UI which will be easy to understand.
On the other hand, some people don't like this because they are using c-panel from years. But it doesn't mean c-panel is better than h-panel.
In H-panel you can easily install WordPress by one click, activate SSL and edit your files. Also in my personal opinion h-panel looks better than traditional c-panel.
Premium features with Hostinger premium hosting plan-
Generally, Hostinger offers three hosting plans starter, premium and Business on all type of the hostings (shared, Cloud, VPS).
Starter plan is for whom who is just starting a blog in which you are provided with very limited features.
The main highlight is it's Premium plan in this you get unlimited database and a Free Domain name for one year.
Some of the exclusive features with Hostinger Premium hosting plan:-
In this plan, you can host up to 100 websites with unlimited database. Here you also get free weekly backups to all kf your hosted sites.
The best part is the Free domain for one year. You can select any (.com) while purchasing the hosting plan.
Bad Things of Hostinger
Cons of Hostinger
As we know every good product has both good and bad points. Hostinger also has some cons which is not a disadvantage.
It can be fixed with little bit extra effort so let's know about those points.
H-Panel instead of C-panel
Hostinger comes with new modern h-panel they don't provide c-panel here. So if you are a c-panel user you might feel little bit uncomfortable.
The exact reason is most of the other hostings like Siteground, BlueHost provides C-panel. So H-panel is like new interface for them.
But after some time when you'll explore h-panel, I am sure you will start liking it. By the way, it's up to you which one you want to use.
Only one free SSL-
Yeah, i am right. With the premium plan of Hostinger, you will get free SSL for one website only. This is a secret which nobody tells you.
I have been using Hostinger for 6 months and i know the reality. You have to buy separate SSL for other sites which will cost you around 800₹.
But don't worry, there is a Free way for you. You can use free SSL by Cloudflare which is very simple to integrate.
Above video is an explanation about how can you obtain free SSL by Cloudflare.
Yeah, it's safe and secure. Cloudflare is a very big reputated company. Even i am also using free SSL by Cloudflare.
My Opinion About Hostinger
Now, there is a question popping up into your mind.
Do i recommending Hostinger?
Yes! I recommend hostinger not just because of i am its existinger user. I recommend it because the features hostinger provides in the low budget is excellent.
Apart from some minor disadvantages, Hostinger is an excellent choice. Speed, uptime traffic handling capacity everything is first class.
Another big reason is that Hostinger is one of the oldest and well-stabilised hosting company so the trust factors is 100%.
Why Should You Go With Hostinger
If you are a beginner and planning to start a blog you should definitely choose Hostinger.
Not only for beginners if your website has medium traffic below 1 lakh per month then also you can choose hostinger.
Recently, i have created a poll about "Which hosting is best according to your experience" and maximum people voted for Hostinger.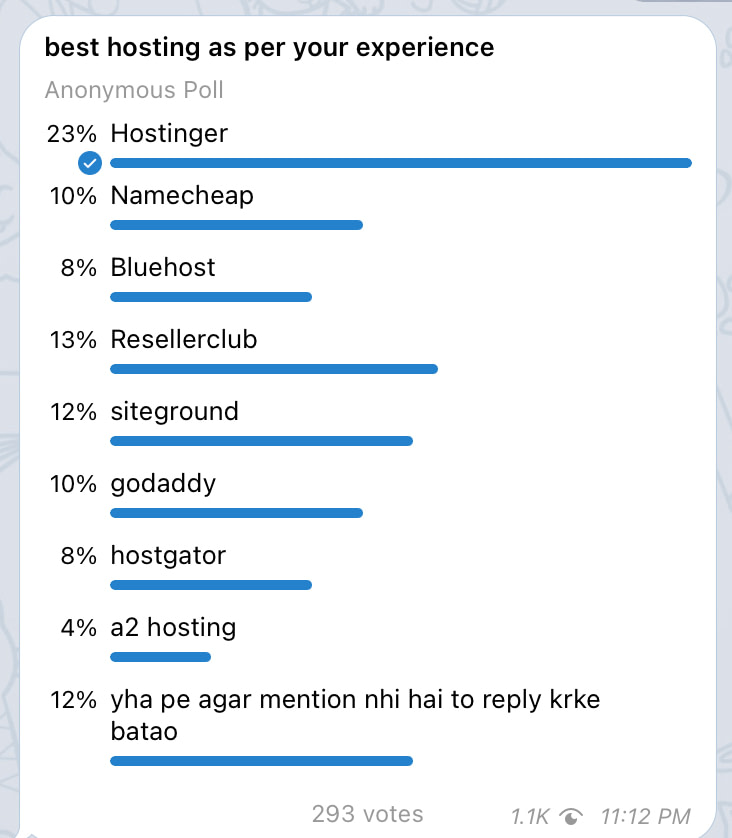 Final Words: Hostinger India Review
If you have planned to start with Hostinger then there is big thumbs up for you.
For you, i will suggest to go with premium plan here you will get free domain name also.
But if you have a budget issue then choosing the starter plan isn't a bad idea too.
Note- If you buy through this link. You can get free WordPress installation and setup by me for free.
If you have any issue related to Hostinger migration and WordPress Installation just let me know i'll definitely help you.
So in this hostinger india review we have explained everything behalfon my experience.
Please let us know your thoughts in comments.
What are the hostinger nameservers?
1st:- ns1.dns-parking.com
2nd:- ns2.dns-parking.com
My blog has 100k monthly visitors should i buy Hostinger?
If your website has that much amount of traffic then I'll recommend Cloudways. This hosting is very fast.
Where are data centres of hostinger located?
Hostinger data centres are located in Asia, Europe & USA. In india you will get fastet servers of Singapore.